Join us on Friday, July 1 at 9:30 p.m. for FREE FAMILY FUN at the Port Isabel Lighthouse! Bring your lawn chairs, blankets, picnics and friends and family for a memorable evening on the grounds of the historic Port Isabel Lighthouse. All summer movies start on Friday at 9:30 p.m. just after South Padre Island's Fireworks display over the Laguna Madre Bay. COST: FREE! For more information call 956/943-7602. museumdirector@copitx.com.
JULY 1>>>9:30 p.m.

DESPICABLE ME – In a happy suburban neighborhood surrounded by white picket fences sits a black house with a dead lawn. Unbeknownst to the neighbors, hidden deep beneath this home is a vast secret hideout. Surrounded by an army of tireless, little yellow minions, we discover Gru planning the biggest heist in the history of the world. He is going to steal the moon. Gru delights in all things wicked. Armed with his arsenal of shrink rays, freeze rays and battle-ready vehicles for land and air, he vanquishes all who stand in his way. Until the day he encounters the immense will of three orphaned girls who look at him and see something that no one else has ever seen: a potential Dad.
Animated Feature
Voices by: Steve Carell, Jason Segel, Kristin Wiig
Universal Pictures;
Directed by Pierre Coffin and Chris Renaud
Rated PG; 95 minutes; 2010
JULY 15>>>9:30 p.m.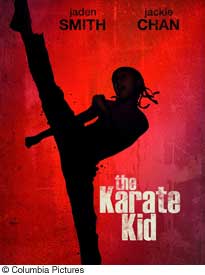 THE KARATE KID – Twelve-year-old Dre Parker could've been the most popular kid in Detroit, but his mother's latest career move has landed him in China. Dre immediately falls for his classmate Mei Ying, but cultural differences make such a friendship impossible. Even worse, Dre's feelings make an enemy of the class bully and kung fu prodigy, Cheng. With no friends in a strange land, Dre has nowhere to turn but maintenance man Mr. Han, who is secretly a master of kung fu. As Han teaches Dre that kung fu is not about punches and parries, but maturity and calm, Dre realizes that facing down the bullies will be the fight of his life.
Jackie Chan, Jaden Smith
Columbia Pictures; Directed by Harald Zwart
Rated PG; 140 minutes; 2010
JULY 29>>>9:30 p.m.

IRON MAN 2 – After confessing his identity as Iron Man to the world, Tony Stark comes under fire from the U.S. Government who demands he hand over the powerful weapon that is the Iron Man suit. Meanwhile, a mysterious and dangerous foe emerges in Ivan Vanko, who creates a powerful persona known as Whiplash in order to exact revenge on the Stark family once and for all… and destroy Iron Man.
Robert Downey Jr., Scarlett Johansson, Mickey Rourke
Paramount Pictures; Directed by Jon Favreau
Rated PG-13; 124 minutes; 2010
AUGUST 5>>>9:30 p.m.

TANGLED – When the kingdom's most wanted – and most charming- bandit Flynn Rider hides out in a mysterious tower, he's taken hostage by Rapunzel, a beautiful and feisty tower-bound teen with 70 feet of magical, golden hair. Flynn's curious captor, who's looking for her ticket out of the tower where she's been locked away for years, strikes a deal with the handsome thief and the unlikely duo sets off on an action-packed escapade, complete with a super-cop horse, an over-protective chameleon and a gruff gang of pub thugs.
Animated Feature
Voices by: Mandy Moore, Zachary Levi, Donna Murphy
Walt Disney Animation Studios;
Directed by Nathan Greno and Byron Howard
Rated PG; 100 minutes; 2010
AUGUST 19>>>9:30 p.m.

TOY STORY 3 – Toy Story 3 welcomes back Woody, Buzz and the whole gang back to the big screen as Andy prepares to depart for college and his loyal toys find themselves in …daycare! These untamed tots with their sticky little fingers do not play nice, so it's all for one and one for all as plans for the Great Escape get underway. A few new faces join the adventure, including Barbie's counterpart Ken, a thespian hedgehog named Mr. Pricklepants and a pink strawberry-scented teddy bear called Lots-o-Huggin' Bear.
Animated Feature
Voices by: Tom Hanks, Tim Allen, Michael Keaton
Walt Disney Pictures/Pixar Animation;
Directed by Lee Unkrich
Rated G; 103 minutes; 2010
OCTOBER 28>>8:00 p.m.

RANGO – This animated comedy-adventure follows the comical, transformative journey of Rango, a sheltered chameleon living as an ordinary family pet, while facing a major identity crisis. When Rango accidentally winds up in the gritty, gun-slinging town of Dirt, the less-than-courageous lizard suddenly finds he stands out. Welcomed as the last hope the town has been waiting for, new Sheriff Rango is forced to play his new role to the hilt…until, in a blaze of action-packed situations and encounters with outrageous characters, Rango starts to become the hero he once only pretended to be.
Animated Feature
Voices by: Johnny Depp, Isla Fisher, Timothy Olyphant
Paramount Pictures; Directed by Gore Verbinski
Rated PG; 107 minutes; 2011
Sponsored by: Museums of Port Isabel, City of Port Isabel, Port Isabel Economic Development Corporation, Port Isabel Merchants Committee, Texas Pack, Inc., Quik Stop

(Schedule subject to change.)